EXPLORE UNESCO TRANSYLVANIAN HERITAGE IN AND AROUND SIBIU
2013
Hilton Sibiu is an exquisite 5-diamond facility, located on the outskirts of Sibiu, near a residential park - Dumbrava Forest - and 3 km from Sibiu International Airport and the old city centre. Whether you wish to stop for the night, or spend a few days in a pleasant environment, you are sure to feel valued and most welcomed.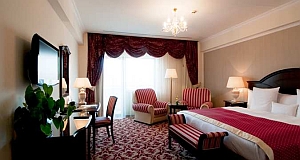 Set in the mediaeval town of Sibiu, voted Europe's Cultural Capital in 2007, Hilton Sibiu hotel in Romania offers a perfect combination of contemporary conveniences, a beautiful, culturally rich location and a wealth of recreational amenities.
The Transylvanian town of Sibiu has much to offer. Discover the Astra Museum of Traditional Folk Civilization and step back in time among the mediaeval fortifications and towers in the city. Or just take a trip around Sibiu, to discover the beautiful scenery and historical sights.